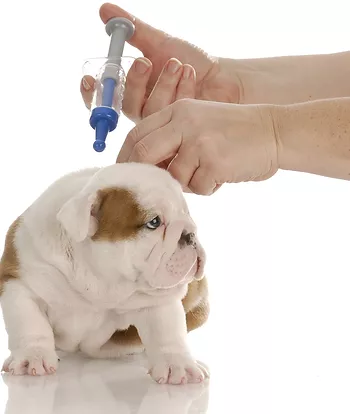 Vaccinations help protect your pet and you (zoonotic diseases) from infectious diseases. Numerous diseases of pets have been prevented and controlled through the use of vaccines.
Vaccines used for vaccinations of dogs and cats include DHLPP (Distemper Virus, Hepatitis Virus, Leptospira, Parvovirus, Para-Influenza Virus) and ARV (Anti-Rabies Vaccine).
3-4 serial vaccinations with DHLPP is recommended beginning at 6 weeks of age at 2 to 3-week intervals. At 12 weeks of age, anti-rabies vaccination is done. Annual vaccinations are done as boosters after your pet's last vaccinations, according to the schedule designed by the Veterinarian.
There are a variety of vaccines available, but not all pets need all the vaccines. We discuss your pet's individual needs with you to tailor a vaccination program to suit their specific needs. A thorough clinical examination is done before vaccinating your pet.
According to our schedule here at the Vet's Place, deworming of dogs and cats begin at 2-3 weeks of age. Dewroming is repeated every 3-4 weeks till 3 months of age. After three months of age, deworming is done every 8 weeks.